7 "Ask, and it will be given to you; seek, and you will find; knock, and it will be opened to you. 8 For everyone who asks receives, and the one who seeks finds, and to the one who knocks it will be opened. 9 Or which one of you, if his son asks him for bread, will give him a stone? 10 Or if he asks for a fish, will give him a serpent? 11 If you then, who are evil, know how to give good gifts to your children, how much more will your Father who is in heaven give good things to those who ask him!" (Matthew 7:7-11)
Some years ago, I began my journey with an amazing network marketing company. Now, regardless of what your opinion is about network marketing, it is a great industry that helps a lot of people but of course has its bad eggs and bad moments. Kind of like your family. Haha. The good, however, certainly outweighs the bad. But anyway, back to my post.
Up until this time in my life, most of my decisions and governing philosophy for life were based on WHAT I was doing or WHAT needed to be done, and HOW I was going to get it done. This consistently left me with mixed results and outcomes that rarely met my expectations so that even in my mid-twenties I was beginning to feel like I was spinning my wheels chasing an ever-elusive state of fulfillment.
Then I went to my first Saturday training with a company that I believed in and had vision for. There on that Saturday morning I was introduced to the life-changing concept of WHY, and I realized sitting in that seat that for most of my life I had be asking the wrong questions. Like a lot of people, I would ask "Who am I?" instead of "WHY am I?". I would ask, "Where should I go?" instead of "WHY should I leave?". The list could go on and on, but suffice it to say that the power of that WHY question began a transformation in my life that DIRECTLY influenced where I am today.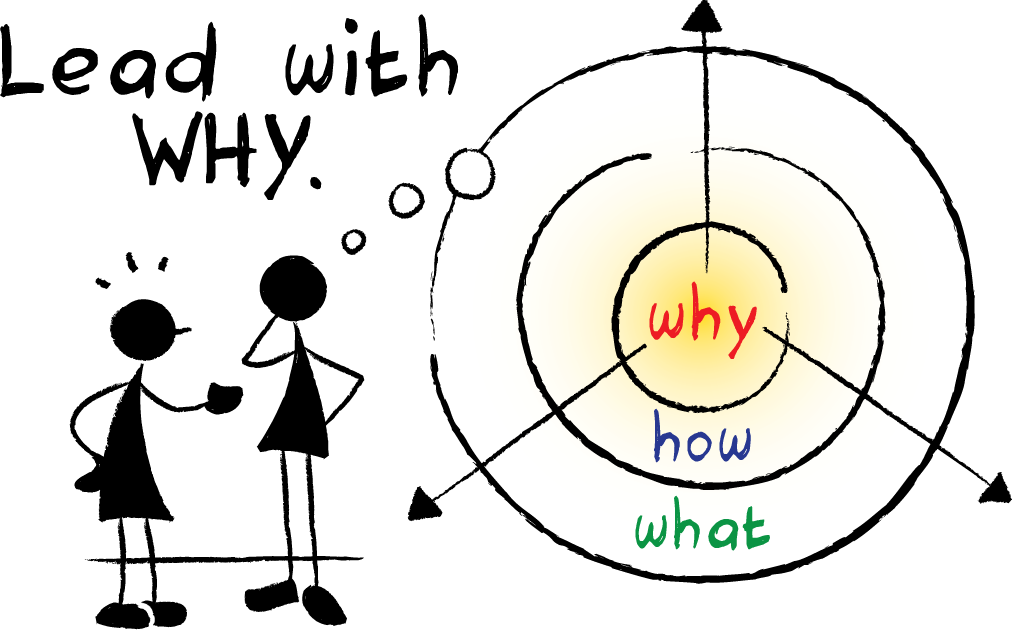 As an outgrowth of that moment I began asking the WHY question about everything in my life. It helped me begin to understand my motives, my habits, my behaviors, my patterns of living, why I went through the cycles of life I was going through and why I was getting the results from my efforts that I was getting. When I began asking WHY, I started to realize that I was more responsible for the condition of my life than I had liked to think up until that point. It was always easier to find someone or something else to blame for my condition in life, until I started asking WHY. When I did, I realized that no matter the external circumstances, there was always SOME role I played in the equation. And the exciting part was realizing that since I'm a part of the equation that produces the results, then if I change, if I get better, then things around me would get better.
And they did.
But not overnight. It's been, and will continue to be, and life-long journey toward understanding the WHYs in my life. But I wouldn't change this sense of awareness of purpose for anything. And that ladies and gentlemen is the foundational premise for Church On Purpose. One of our primary goals for the culture of the church is to be able to create a community where it's ok to ask WHY.
My prayer for you, is that with all the questions that you have in life, that today you will just start asking WHY. Why am I here? Why did that happen? Why am I the way I am? Why do I struggle with the things I struggle with? Why do I care so much? Why do I care so little? Why am I so mean? Why am I still at this job? Why am I afraid? Why am I worried? Why do I deserve to be respected and loved? Just begin to ask WHY.
When you do so, with a sincere and open heart, our Heavenly Father will begin to answer you, and help you begin to understand yourself and your place in His plan. Now it is important to understand, that just like in all of your other interactions, there will be some answers that you don't necessarily like. Asking why you struggle with relationships may very well take you back to a place in your life, long forgotten, that He needs to heal for you to move forward. But appreciate the fact that any hurts or pains He uncovers, He is more than able to heal. And your life on the other side of that brokenness, is the life that you've been dreaming of.
Start today with one WHY, and allow that to take you down the rabbit hole of WHYs. And over time, watch how the fruit of your life begins to line up with the desires of your heart. Because like I learned at that network marketing Saturday training all those years ago, when the WHY is clear, the HOW is irrelevant.
7 "Ask, and it will be given to you; seek, and you will find; knock, and it will be opened to you. 8 For everyone who asks receives, and the one who seeks finds, and to the one who knocks it will be opened."
Live each day, but especially today, on purpose!
Coach J