JUST BE PATIENT. Those were the words consistently expressed to me by each of the individuals whose counsel I sought prior to moving with my family to Omaha, Nebraska to plant Church On Purpose.
As much as I wanted to believe those words weren't going to apply to this story, wisdom and experience taught me a long time ago that the best pace to move is always God's pace. Regardless of how clear the vision may be, how many smaller steps you may have broken it down into, or how many bullets you've already checked off the list, the truth of the matter is that God will do, what God will do, when God will do it, and not before. And the last thing you want to do is try to force the vision to become reality.
For me, I accepted the position long ago that if God has a plan to get me from point A to point C, then sure, I could spend a lot of time trying to figure out how to get there myself. Or, I could stay connected and just follow directions. I could learn to maximize the potential of where I am today, so when tomorrow comes I am already equipped with everything I need to maximize the potential of that day too. And over time, I learned that that method not only allows me to arrive at point C with everything that I need to move forward, but it would ensure that I would hit point B along the way.
So here we are. We've been in Omaha for two months now, and when I talk to people back home I smile whenever they ask me any of the following questions:
Have you had your first service yet? (no, we're finally actually getting settled in a brand new place and getting our bearings)
Have you found a building yet? (no, we can't just buy a random building for two reasons: 1. we have to designate an area where we will serve and 2. we haven't grown to the point in size to generate the income to financially support any type of facility yet, as a matter of fact we're still just trying to make sure our own rent is paid every month)
Have you preached at any of the churches out there yet? (you know that old TV show CHEERS where the theme song said, "Sometimes you want to go where everybody knows your name…"? Yeah, well this is pretty much the opposite of that. Nobody knows who I am, or even that I exist at this point.)
How many people do you guys have now? (well, including me and my family, we've got……..well……me and my family, and our Admin Leader Anthony. We start vision dinners soon so more people will be able to connect to the vision, but it takes time)
I smile because when you're in an established church, everything seems so simple. But when you move halfway across the continental United States, to a place where you only have a pre-existing relationship with one person, and you're planting a church for the first time, it's going to take a little longer than a few weeks to get things up and running, make the connections, and start growing; much less buying/constructing a facility to house the operations of the ministry.
So here are some baby steps that we're focusing on now and we prepare for the realization of the vision of Church On Purpose:
CONNECT CARDS: As we connect with people in the Omaha community, our connect cards allow us to leave them with something tangible in their hands so they can CONNECT with Church On Purpose via social media or directly with the person they talked with. The back of the cards have directions for registering for our Vision Dinners where I'll be sharing the vision of Church On Purpose with interested people over a monthly meal. (design complete and just  arrived on 10/8! super pumped!)
VISION DINNERS: As we make connections with the community, individuals interested in learning more about Church On Purpose will be able to attend one of our monthly Vision Dinners where I will share the history and vision of Church On Purpose over a meal. This will afford them the opportunity to decide whether they feel called to partner with us in this effort.
LEADERSHIP TRAINING: As individuals connect with the vision of Church On Purpose and express a desire to partner with us, they will be invited to attend Leadership Trainings where I will walk them through a curriculum of culture development. During these sessions, through Bible Study, role play, and candid discussion I will, as clearly as possible, paint the picture of the kind of culture we want to create with Church On Purpose. These meetings are not training for positions and titles, but preparation to be leaders in creating the culture of the church family. Over time, these sessions will expand into the equivalent of a New Members type of class.
SMALL GROUP BIBLE STUDY: Once we're clear on the kind of culture we want to create and have a core group of individuals that will help lead us in developing that culture, then we will initiate our regular weekly Bible Studies that will be open to anyone that wants to join us.
After all of that, THEN we move into PHASE 2!!
hahaha
And in between all of those bullet points are sub bullets including but not limited to: (in no particular order)
paperwork processing
financial management
lesson development
relationship building
pastoral care
other administrative duties
clarification of next steps of the vision
prayer, prayer, prayer
website and social media maintenance
and two lovely children that I happen to be homeschooling as well!!
BABY STEPS!!!
So rest assured, you may not see a lot happening on the surface with Church On Purpose right now, but that's only because the seed has just recently been planted. And before a seed ever breaks through the surface, there's a lot of work that takes place underground and out of the view of the world.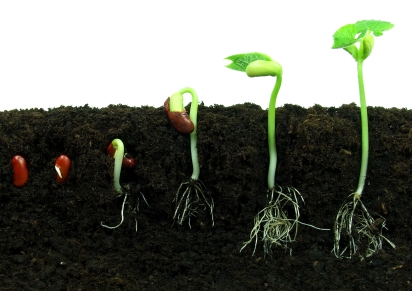 We're germinating right now. And although we want to grow and change Omaha and the world for the Kingdom, we understand the value of preparation, building a solid foundation, and patience.
We're going to get there. We didn't move halfway across the country to NOT get there.
But for now……..baby steps 🙂
SIDENOTE: Some of the items on our list are only hindered by the availability of finances to complete them. Starting a ministry is expensive, and if they Holy Spirit so prompts you, any contribution you make would certainly help us to continue to advance toward our goal of community impact for the Kingdom! You can make contributions here —> DONATE, or you can find me on social media and get our mailing information. Thank you in advance!
Live each day on purpose!
Coach J